Photo: Depiction of Music instruments in Sculptures at Hoysaleswara temple, Karnataka; Credit: Wikimedia
India, as one of the earliest cradles of civilization, has a long and glorious history of art and culture that spans longer than the history of most countries in existence today. Song and Dance in India is varied and diverse due to the many independent regional cultural traditions that make up the country as well as the many religious practices that boast thousands of different deities.
'Sangeet' – music – defined by Indian Culture as a combination of Sam+Geet that means lyrics and speech. Sangeet includes 3 main aspects in its
Vocal,
Instrument &
Dance.
The music of India includes Indian classical music, multiple varieties of folk, popular, pop, and, most recently, rock music.
History of Indian classical music considers the following ancient treatise on the science of performing art
The Natyashastra, written by the mythic priest Bharata
Different Musical Instruments
In the Natya Shastra musical instruments have been divided into four main categories on the basis of how sound is produced.
The Tata Vadya or Chordophones- Stringed instruments – The instruments in which sound is produced by the vibrations in stretched metal wires are called string instruments e.g. sitar, violin, sarangi, sarod, tanupura/tambura  etc.
The Sushira Vadya or Aerophones- Wind instruments (Flute instruments & Reed instruments) – The instruments in which sound is produced by the vibrations in air column are called wind instruments e.g. flute, shehnai etc.
The Avanaddha Vadya or Membranophones- Percussion instruments– The instruments in which sound is produced by the vibrations of a stretched skin are called percussion instruments e.g. tabla, dholak, mrindangam, drums etc.
The Ghana Vadya or Idiophones- Solid instruments which do not require tuning and the earliest instruments invented by man e.g. Manjira, Khartal, Chimta, Morchang, Jaltarang, Ghatam.
We have shortlisted to describe only a few popular musical instruments which are integral parts of Indian Music..
Music Souvenirs
We have the gift ideas to suit every music lover's groove. Our Indian Music collection consists of products which represent different aspects of Indian classical music. & narrate the fascinating story of India's music heritage.
Music instruments miniatures,
Music trophy/awards,
Medallions,
Music souvenirs like mugs,
posters,
prints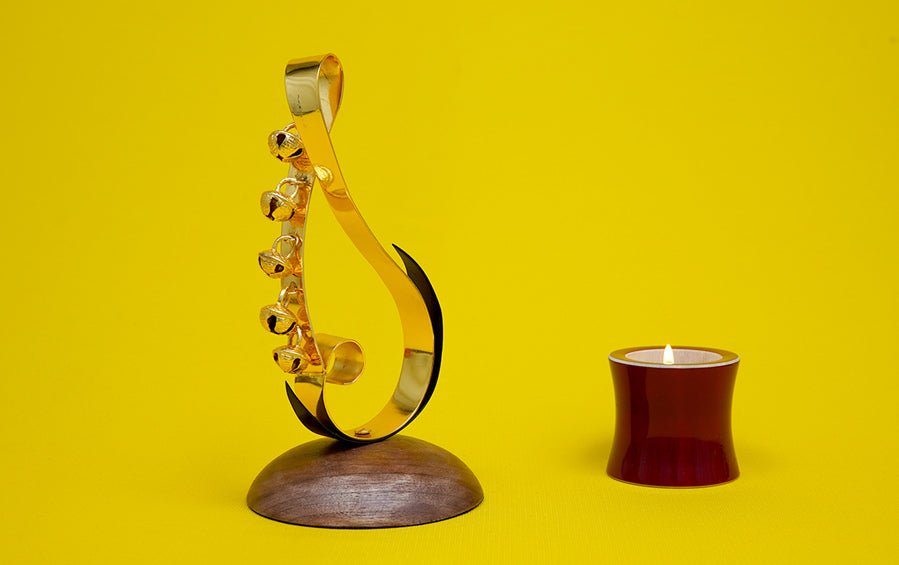 Source: