Suman Chitrakar – Bengal Pattachitra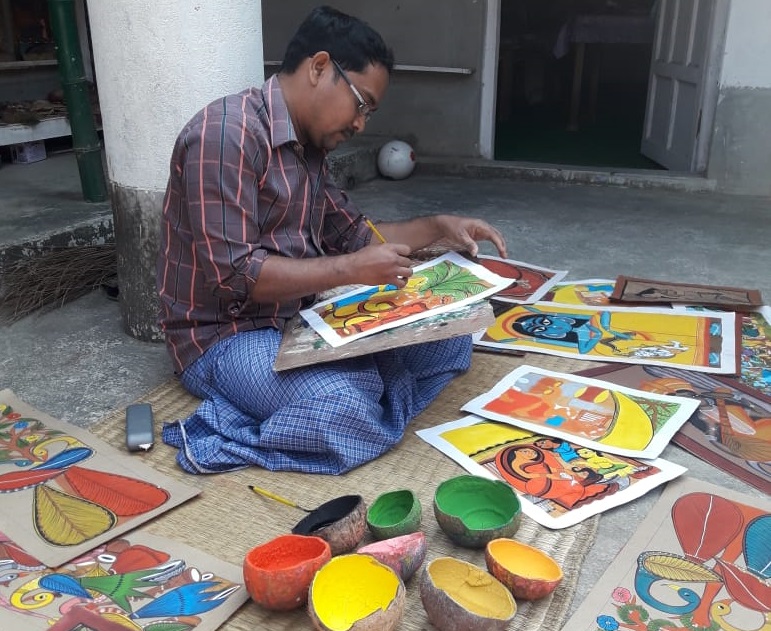 Let us introduce you to Suman Chitrakar (33 yrs) is a young Patua artist from Nayagram village of West Bengal practicing Bengal Patachitra- Scroll Painting. Suman started painting at the age of twenty with his mentor Jaideep Chitrakar.
Suman carries the lineage of 'folk' artists who paint long vertical scrolls and compose verses. He creates figurative works. His artwork has been featured in two books – one on Bono Bibi of the Sunderbans and another on the life of Savitribai Phule published by Azim Premji University. Recently Suman Chitrakar grabbed the attention of the British audience participating in an inspirational exhibition 'Gods and Demons' which was an initiative by India's West Bengal government Biswa Bangla in collaboration with the Indian Council for Cultural Relations and London's Nehru Centre in May 2016. After a glorious week in London, the artist conducted live demonstrations and workshops at the Museum of Edinburgh.
Sai Kiran – Cherial Art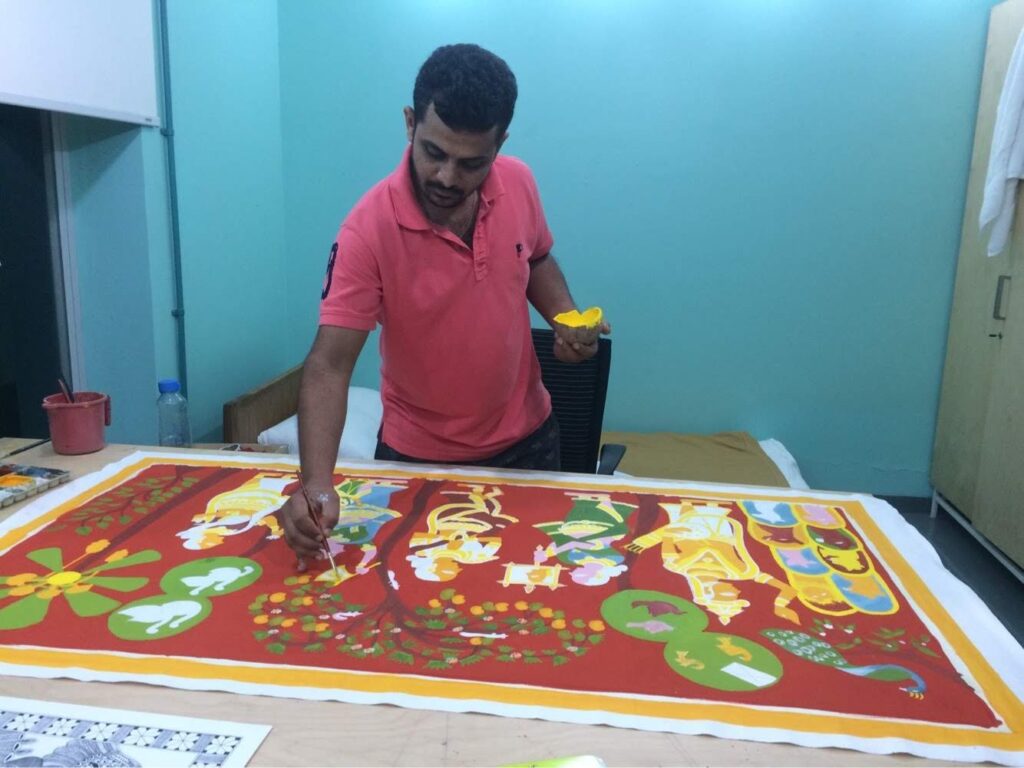 Sai Kiran , the son of state award winners D. Nageshwar and D. Padma, hails from Rangareddy district Telangana. Sai Kiran learnt this art form from his grandfather and father- D Nageshwar Rao Nakash , a Cherial scroll painting expert. He studied Fine Arts from Sri Venkateshwara College of Fine Arts, Madhapur. He later chose to carry on with his family tradition of Cherial Scroll Painting and Mask Making. He is the fourth generation in this artistic family. Sai Kiran started conducting workshops at the age of 17 years and that was when he was noticed by Surabhi Vani Devi, daughter of late P V Narasimha Rao, Former Prime Minister of India. She offered him a seat at the Osmani University in Hyderabad, in Fine Arts, which further improved his skills. Sai Kiran's specialization was painting and murals.
Mohammamed Abdul Rauf – Bidri Metal Craft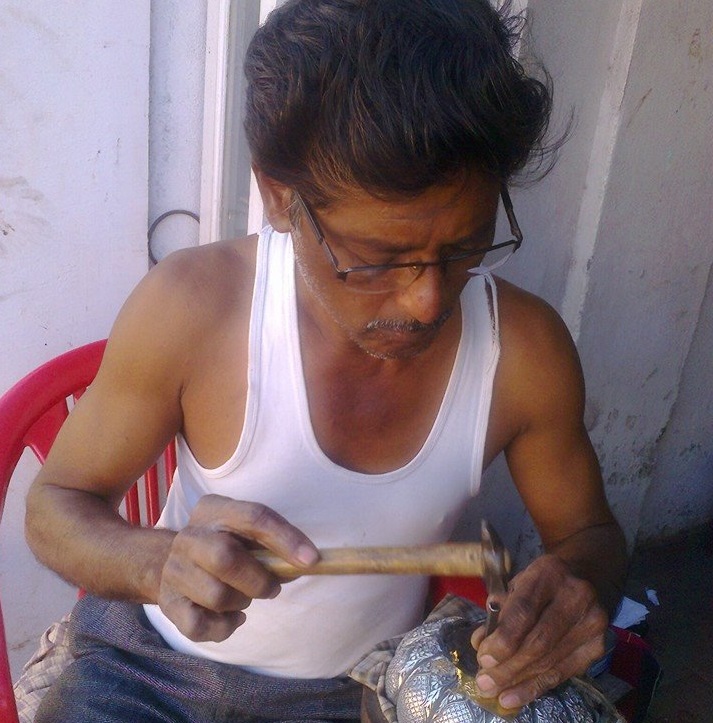 Tracing back to a long lineage of award winning master craftsman Shilpguru Mohammamed Abdul Rauf, has played a quintessential role in elevating Bidriware into a contemporary art form without compromising on the traditional and cultural relevance of the craft. M A Rauf has been recognized and felicitated by two presidents of India and several high dignitaries of the Government of India, as he is lovingly and respectfully called by those that work with him, hails from a family that has given generations to the art of Bidriware, having trained at the tender age of 10 under the watchful eye of his father Master Craftsman Late Janab Shaik Ahmed.
Pramod Kumar Maharana – Odisha Pattachitra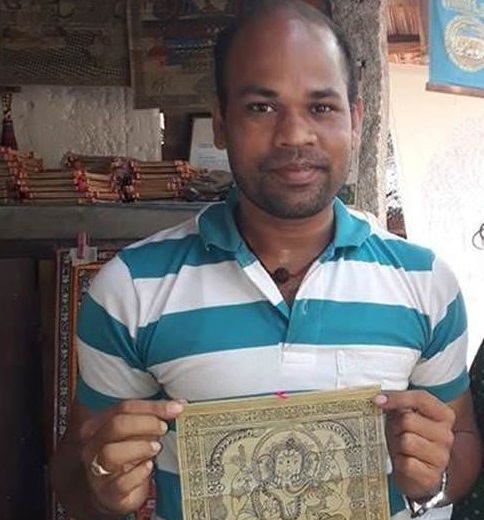 Let us introduce you to a veteran brother artist of Pattachitra Prafulla Kumar Maharahana, Pramod Kumar Maharana (37 yrs) from Nayaka Patana village of Puri district in Odisha. The artist belongs to a family of accomplished chitrakars and specialises in Patachitra & Silk Painting. Pramod was introduced to this art form by his father at very early age and later he got trained by the master artists Jaganath and Dinabandhu Mahapatra. Pramod traveled and demonstrated the Pattachitra craft in Europe (Germany). Pramod draws Rs 10,000 every month from his art work sales in a Chennai museum.
Borrowing from the contemporary style, he ha introduced newer designs. While tradition dictates for palm leaves to be attached in the form of scrolls, he has widened the scope of the practice. Now, Pattachitras come in shapes of wall hangers, bookmarks and even game boards.
Bidyanath Jha – Madhubani Art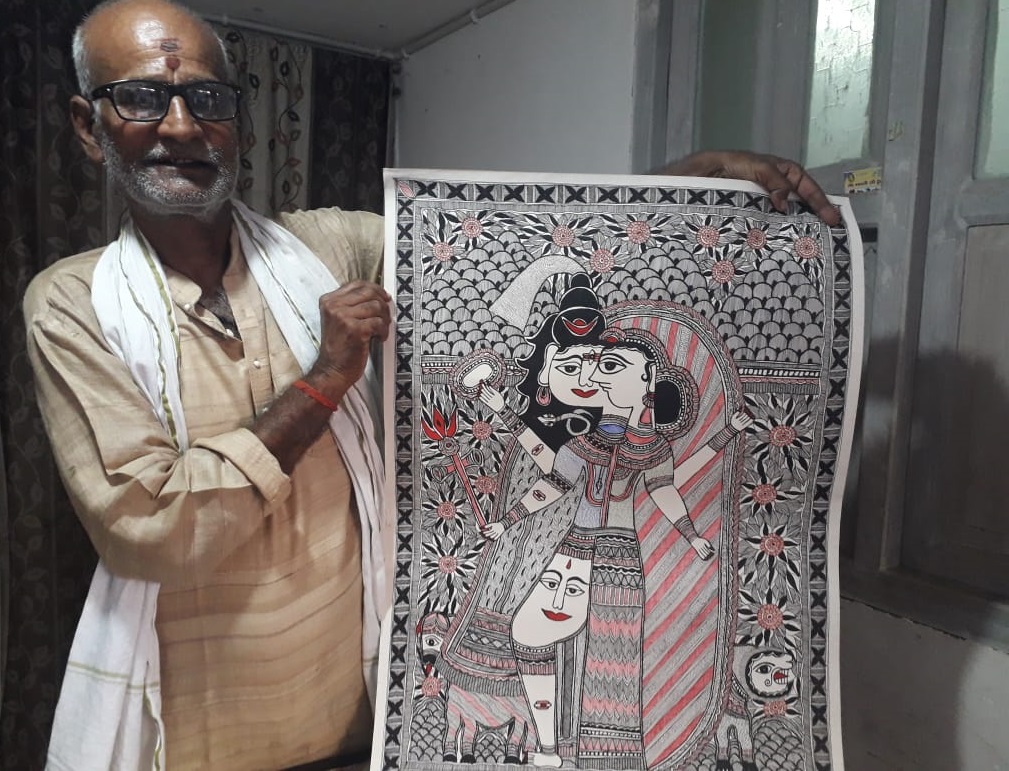 Let us introduce you to Bidyanath Jha, born in 1947, is one of the senior and respected Mithila artists from Madhubani, Bihar. Master artist Bidyanath Jha learned painting from his elder sister Bachoudi Devi. He was in his 20s when tragedy struck his family, forcing him to look for livelihood. With his two sisters Bachoudi and Lakshmi Devi, Bidyanath's mother and aunt has created exquisite Madhubani art on their walls. He practices Godhna and Tantrik style of painting. He was a Guru in Nabard Bank's training initiative. He has also trained SHG members on Madhubani painting. He has visited Delhi, Kolkata, Mumbai, Chennai, Bangalore, Lucknow, Hyderabad, Ahmedabad, Surat to showcase his paintings in exhibitions and fairs.
Puspolata Das – Sabai Grass Craft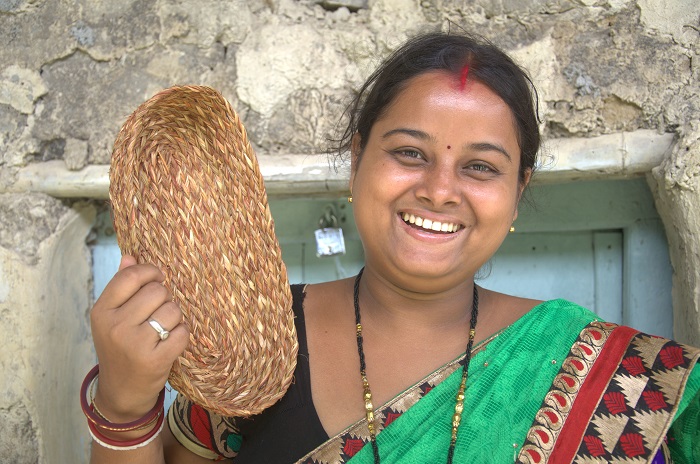 The artistic hands of rural women of West Mednipur in West Bengal and parts of Orissa have given a new recognition in Sabai Grass weaving handicraft. Sabai grass is collected from the forest mainly by the rural women who are then dried and made into ropes by manually operated machines. These are then used for making utility items like baskets, furniture, bags, coasters etc by the Sabaii grass artists like Puspolata Das. The craftswomen of the region self-sustain themselves during non-farming season also. Under Kadama- Haat the women crafts-group undergo trainings now and then learning various advanced skills as new groups emerge with more basic trainings and thus more self-employ ability.
Picture Source: Kadam-Haat
Lipun Patra – Odisha Ikat Weaving Craft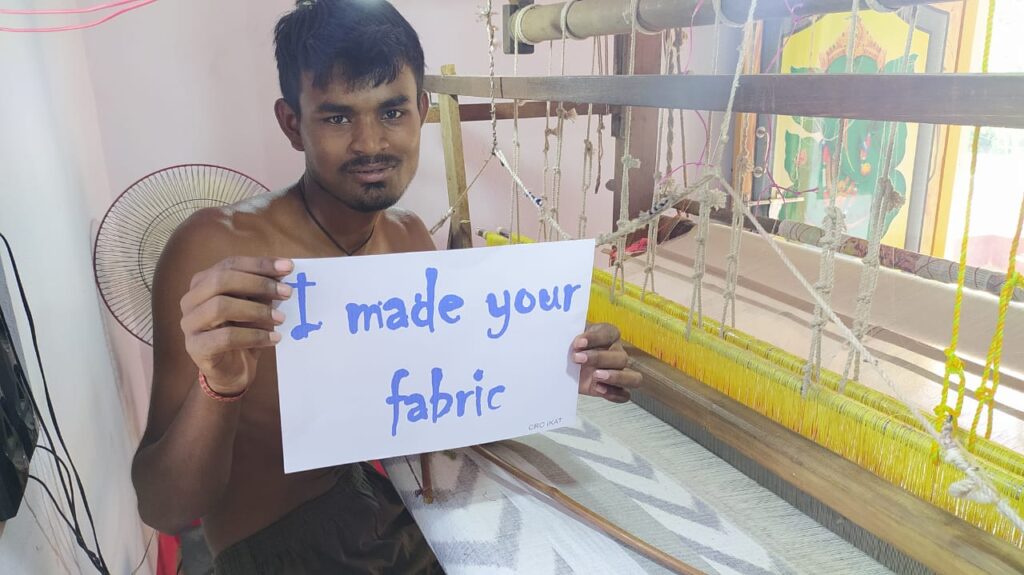 Our weft Ikat cotton stoles are handwoven by Ikat weavers artisans like Lipun Patra (20 yrs) from Maniabandha a village in Badamba block of Cuttack District, Odisha- an eastern state of India which is well known for its beautiful ikat textiles. His father used to ask Lipun to focus on the studies rather than engaging in the craft because there isn't enough money in the craft. Lipun learnt tying (bandha) to financially support his family and along side this he completed Secondary School.
Anjana Das – Assam Eri Silk Weaving Craft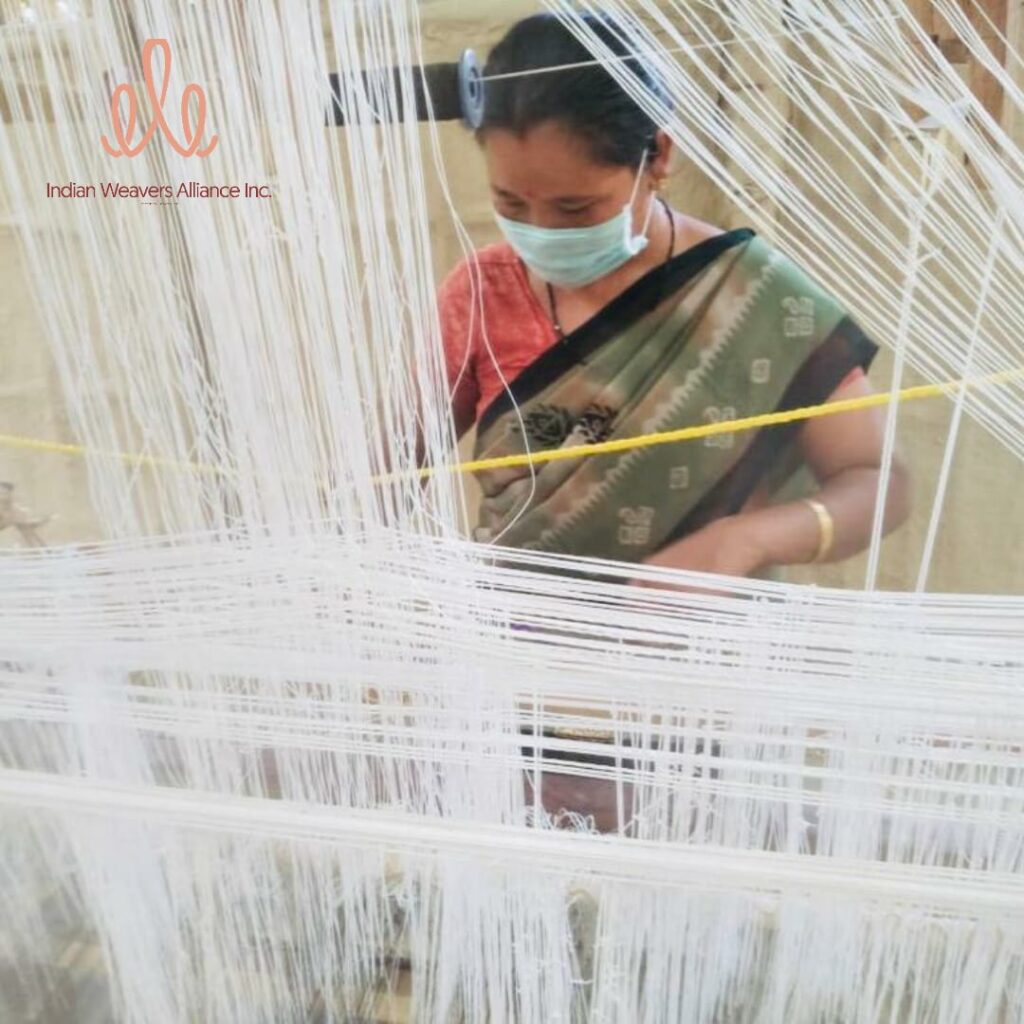 Our Eri Silk stoles are hand woven by the weavers like Anjana Das of Batiyapara village in Mirza area of Assam known to be a concentration of eri weaving. Majority of eri weavers in Assam are women. In most of Assam, weaving continues to be a home based activity, women weaving their exquisite textiles alongside all their other household work. They work under Indian Weavers Alliance, a start-up by a group of technocrats from Assam. The vision of Indian Weavers Alliance is to create a Sustainability Centric Eco-System. The fly shuttle loom is the most common and traditional loom used by all communities in Assam.
Picture Source: Indian Weavers Alliance Inc
Rupsona Chitrakar – Santhal Pattachitra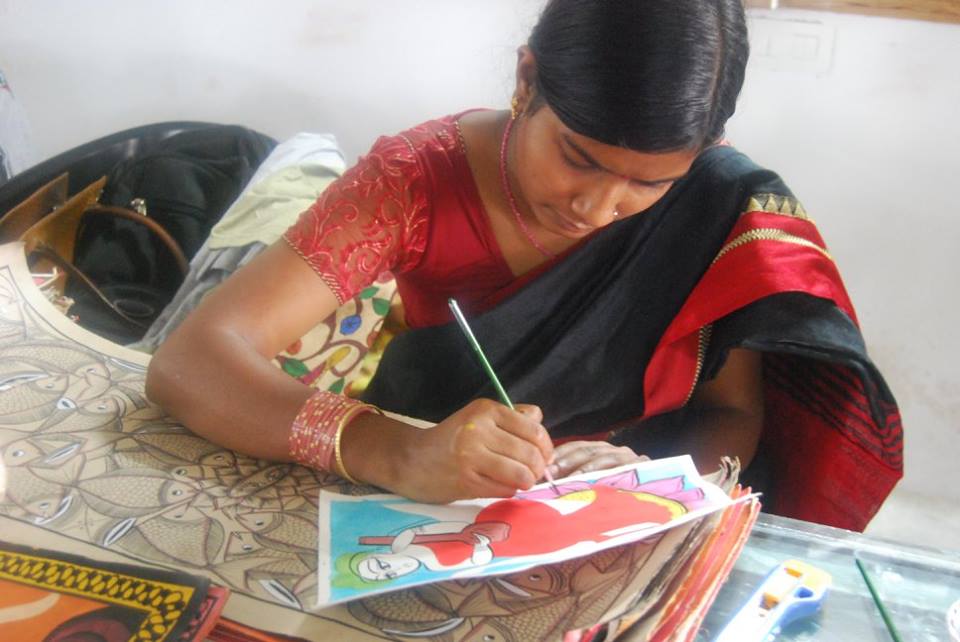 Rupsona Chitrakar, 22 years old, is a patachitra artist of Pingla. Rupsona is an expert in painting on Santhal tribal themes. She started painting at the age of six and learnt from her father Bahadur Chitrakar and grandmother Baharjan Chitrakar. She paints on religious themes and works on apparels as well. She has participated in exhibitions and fairs in Kolkata, Delhi, Mumbai, Goa, Bangalore and Pune.
Khagen Goswami – Bhaona Mask Making Craft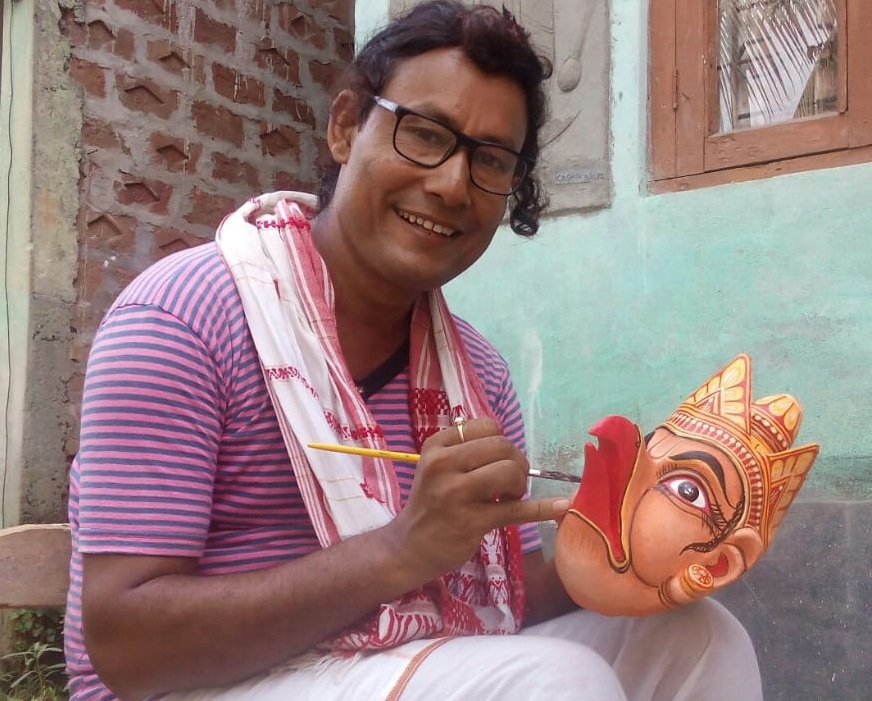 Khagen Goswami is a master artisan who learnt Bhaona mask making craft from Sangeet Natak Akademi awardee Shri Hem Chandra Goswami. Khagen has been practicing this mask making art craft at the Samaguri Satra of Majuli, Assam since the last 15 years and he continues to train artisans of the island to learn the art of mask making thus keeping alive this tradition and Mask Making. He has conducted multiple workshops across the country.