Photo: A train on the Kalka Shimla line passing through Kanoh Bridge; Credit: istock
The Indian Railways (IR) with more than 160 years of rich history; presents a wide spectrum of the national heritage of India. Railway Heritage isn't only about locomotives (steam or otherwise), coaches and wagons. IR has some interesting routes and trails throughout the country with some of the best railway structure of buildings, stations, bridges and tunnels and much else. As of April 1, 2018, the total number of bridges in Indian Railway stands at 147253. The Railway bridges are created by railway engineers and built over the water bodies, which connects all the major Indian cities. These bridges are categorized into 3 categories: – important, major and minor bridges. About 700 of those bridges are "major" ones.  There are several iconic rail bridges in India which are instrumental in facilitating effective transport around the country. Here, we have shortlisted only six of the finest railway bridges of India which have unique construction, significance and provide or are expected to open soon providing stunning views for passengers.
1. Pamban Bridge – Tamil Nadu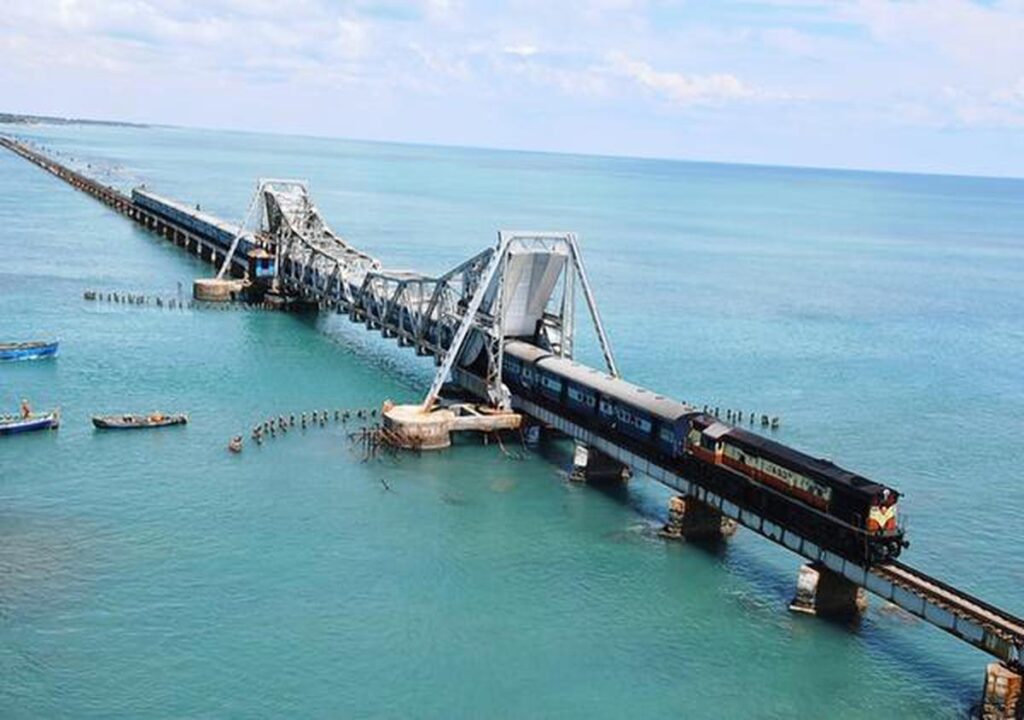 Pamban Bridge has a length of 2,065 meters. Pamban Bridge is a railway bridge which connects the town of Rameswaram on Pamban Island to mainland India. Opened on 24 February 1914, it was India's first sea bridge, and was the longest sea bridge in India until the opening of the Bandra-Worli Sea Link in 2010. The New Pamban Bridge will run parallel to the old Pamban Bridge. This new one is going to have India's first vertical lift span bridge technology, replacing old Pamban bridge. Using a bascule bridge design concept, the Pamban is a movable bridge that uses an "open-close" mechanism to allow boats to pass under it. It offers picturesque ocean view to the passengers.
Note: Recently Southern Railway has announced suspension of train operations on the Pamban Rail Bridge till further announcement.
Photo: Pamban Bridge; Credit: The Hindu.
2. Godavari Bridge – Andhra Pradesh
Godavari Bridge in Rajahmundry of Andhra Pradesh is an impressive 4.1 km Rail cum Road Bridge in India. It is commissioned by South Central Railway division of Indian railways. One of the longest railroad bridges to cross a water body, it is the second of three bridges that stretches over Godavari River. Godavari Railroad Bridge is a work of art.  The Bridge has a two-lane road deck over a single-track rail line. It is a truss bridge over river Godavari in which 2.8 km is rail part, and 4.1 km is road part. Locally the bridge is also known as Rajahmundry–Kovvur Bridge. This famous Rail cum Road Bridge was opened on August 16, 1974. This Rail Cum Road Bridge is said to be Asia's second longest road-cum-rail bridge crossing a water body and second longest in the world.
The unique Godavari Arch Bridge, opened for rail traffic in 1997. It replaced the Havelock Bridge or the oldest of the three Godavari bridges (built in 1900) nearby.  It is the latest of the three bridges that span the Godavari river at Rajahmundry. Built with prestressed concrete with a bow-string arch girder superstructure, the 2,745-m arch bridge has 28 spans of about 97 m each. The bridge is considered as one of the most striking architectures in the country. The bridge is located in a cyclonic area. It became fully operational for running trains by the Indian Railways from 2003.
Photo: Godavari Arch Bridge; Credit: Rajamahendravarama Municipal Corporation (RVC).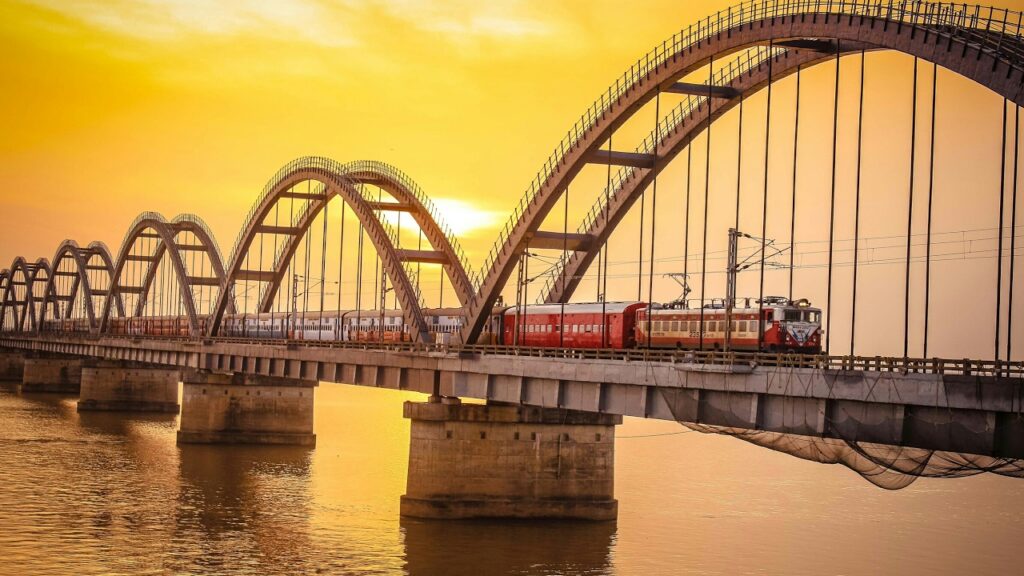 3. Vembanad Rail Bridge – Kerala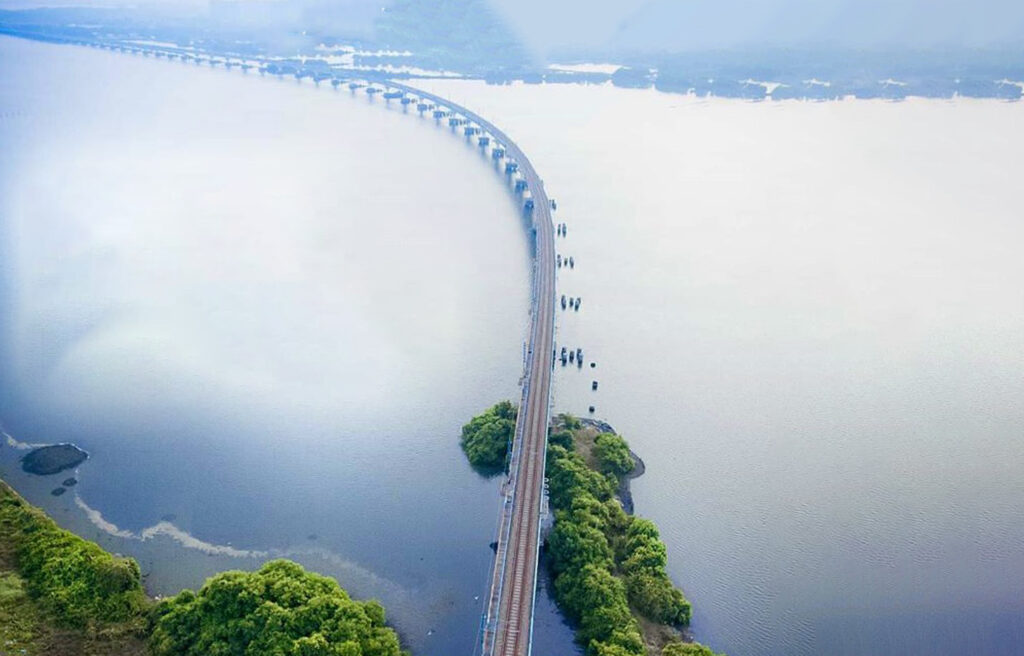 The second-longest rail bridge in India, the Vembanad Rail Bridge connects Edappally and Vallarpadam in Kerala's Kochi. The bridge is 4.62 km long and is dedicated to good trains. The bridge passes through three small islands in this part of Kerala and is built over the backwaters of the Vembanad Lake – known for its scenic backwaters and tourist hotspot, Kumarakom. This rail bridge is probably the most recognizable beam bridge. Vembanad Bridge flies over the picturesque backwaters. Eighty percent of the bridge is built above water.
Photo: Vembenad Bridge; Credit: istock..
4. Chenab Bridge – Jammu & Kashmir
Indian Railways is credited for constructing the world's highest single-arch railway bridge – Chenab Bridge in Kashmir was inaugurated on 13 August this year. It is built across the Chenab River which runs through the Reasi district of Kashmir. The height from riverbed level (bottom of river) to the centre of the arch is 359 m (1179 ft). The Golden Joint of the bridge was inaugurated on 13 August 2022 which links two ends of the deck of the railway bridge The Ministry of Railways took to Twitter and shared some amazing pictures of the bridge. The bridge will be the key link in providing direct connectivity to Kashmir valley.
Photo: Chenab Bridge; Credit: Ministry of Railways...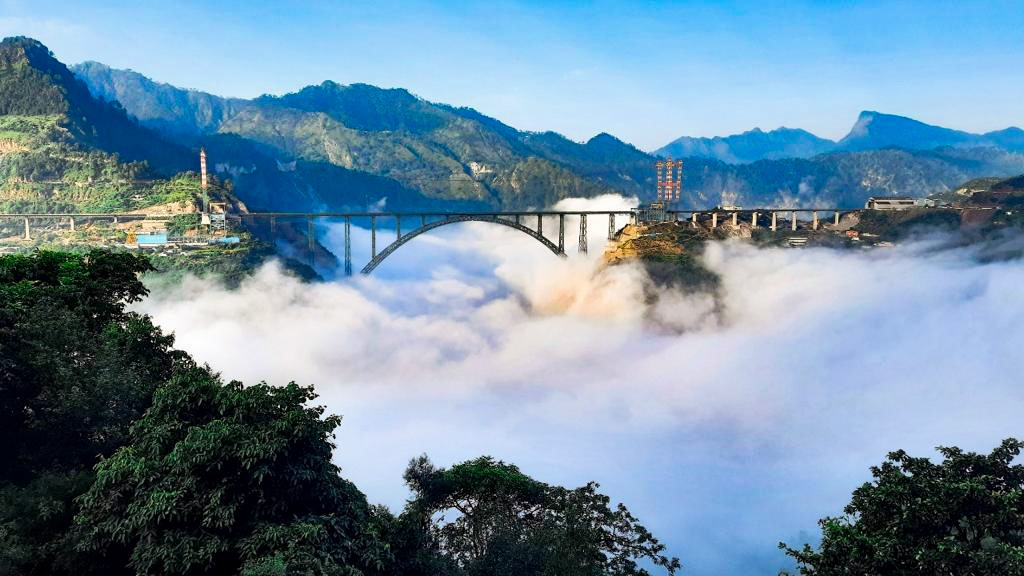 5. Kanoh Bridge (Bridge No 541) – Himachal Pradesh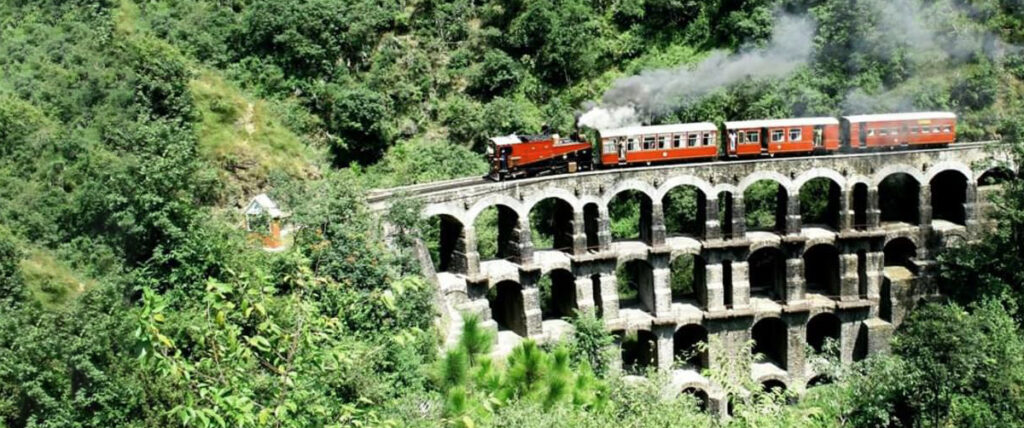 The Kalka Shimla Railway (KSR) has 988 bridges and viaducts, some of with unique multi-arch masonry galleries. Kanoh Bridge is the highest arch gallery bridge of the Indian Railways, which was built in 1898. The arch gallery bridges 221 and 541 (Kanoh Bridge) of the Indian Mountain Railways are two of the most unique on a railway route. Made of stone and brick, the Kanoh bridge extends 52.9 meters across a ravine and stands 23 meters tall at its highest point. These arched bridges are surrounded by pine, fir and deodars, and located on the Kalka-Shimla route, which also is a UNESCO World Heritage Site. With an excellent view of the mountain ranges of Shimla, the journey is made for railway buffs.
Photo: Kanoh Bridge; Credit: istock..
6. The Panvalnadi Bridge – Maharashtra
The Panval Nadi bridge, spanning the Panval river in Ratnagiri District of Maharashtra, is 420 m long and rises to a height of 60 m. The viaduct stands on hollow, tampering, octagonal pylons and the superstructure is a single cell, continuous span prestressed, precast box girder spanning 30 m between abutment and pylons for the end span and 40 m between pylon to pylon for the internal spans. The pylons were constructed using the strong slipform technique of continuous construction and incrementally launched, a method used for the first time in India!
 In 1995, the bridge received the Most Outstanding Concrete Structure in India Award from the American Concrete Institute.
Photo: Panval Viaduct in Ratnagiri, Maharashtra; Credit: Ministry of Railways.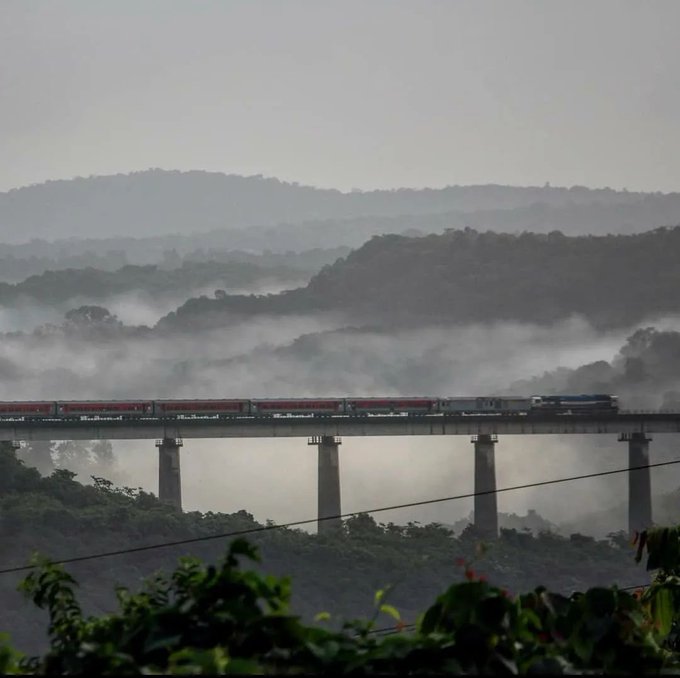 Bogibeel Bridge – Assam & Arunachal Pradesh, Shravathi River Bridge – Karnataka, Mahanadi Rail Bridge – Orissa, Konkan Railway Bridge /  Zuari Bridge – Maharashtra, Jubilee Bridge – Hooghly – West Bengal, Balawali Railway Bridge / Anderson Bridge – Uttar Pradesh, Yamuna Bridge/ Naini Bride – Uttar Pradesh, Nehru Setu Bridge – Bihar are also significant rail bridges of India.
Sources
p. 52-p.53, p. 90, p. 98, p. 218, p. 264, DK (Author), Debroy B. (Foreword), (2020). Indian Railways- A Visual Journey: Transforming a Nation's Destiny (A. Thapliyal.).