Yoga is an integral part of ancient Indian wellness practice. As a systematic study the origin of yoga dates back to pre-vedic Indian traditions around 3000 BCE. Yoga and meditation were mentioned in the Rigveda as holistic health practices.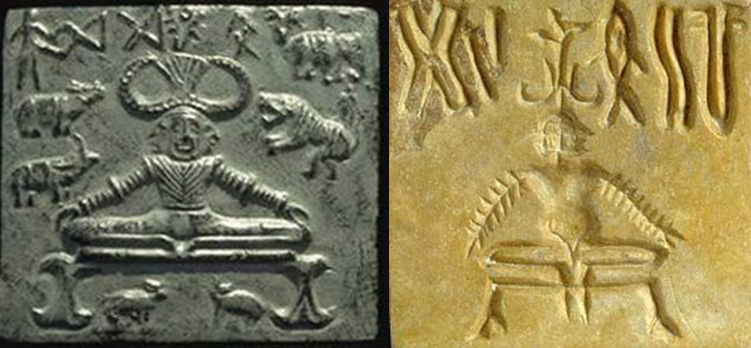 Yoga is an inner journey for bringing harmony among body, mind and soul and connecting individual consciousness and self realization with the universal consciousness. This union is the base of happiness and strength to to overcome all kinds of sufferings. The practice of YOGA is an opportunity to deepen our connection to the Earth and Ourselves!!
A yoga mat is the yoga practitioners favourite companion and what better way than to opt for a natural and an organic yoga mat in comparison with the synthetic rubber, PVC and chemical laden ones. So to enjoy yogasanas naturally use NATURAL YOGA MATS with following features!
Material
The material your yoga mat determines its texture, stickiness, sponginess and whether it is made of natural sustainable materials or not.
Yoga mat should be of soft textured and should be sweat absorbent, skin friendly and non-stinky
The mats should have a naturally ribbed serrated texture of the interwoven grass help you maintain your grip for a natural flow of movement, working towards a balance without providing artificial 'sticky' support. This gives a beneficial 'acupressure' effect through the soles of your feet. Choose the mats which are stitched and padded for non-slip usage and aesthetics.
Care about the planet- Practice yoga session on an environmentally SUSTAINABLE quality, eco-friendly yoga mat. The dye of yoga mats should be mineral based, kind to the ENVIRONMENT and completely free from toxins, pesticides, and chemicals.
MADE IN INDIA mats made for centuries – Use eco friendly yoga mats handwoven in the region of India where yoga has its origins.
Thickness & Stickiness
The thickness and stickiness of your yoga mat determines how strong your connection to the floor is during yoga session. The weight, tolerance of the body and the type of yoga used for practicing are determinant factors to choose the thickness of yoga mat. A standard yoga mat is usually around 1/8 inches thick. A thinner yoga mat is preferred for yoga postures involving standing and balancing requirements. A thicker yoga mat is suitable for seated poses. But for people with joint problems thin yoga mats will be uncomfortable. A thicker yoga mat provides better support to the knees, elbows, joints, hips, and the back.
For traveling purposes a thin yoga mat is preferred for it's lightweight. The level of skill should also be considered while choosing the thickness of the yoga mat. For beginners standard thick yoga mat should be used. Choose the yoga mats with anti-skid properties to strengthen the gripping on floor while doing advance yoga practices.
Size
Length and width of your yoga mat should be according to your body . Most yogis fit on a standard-sized mat and an average mat size is 24 inches x 72 inches (2 feet x 6 feet).
Maintenance
It is important to maintain the quality of yoga mats for daily practice in challenging climates (specially in India where humidity soars over 95%), varying environments and on multiple surfaces. Choose mats which offer excellent traction to support a sweaty yoga practice. Mats should be easily washed and dried.
Easy to Carry
Yoga mats should be folded in to a suitcase or rolled tight for Yogi's on the go. Choose the mats of lightweight and compact design. Best if the mat comes with a matching carry bag.
Get your natural fibre yoga mats from Indic Inspirations today and use it for DAILY FITNESS PRACTICE! Choose from:
These yoga mats have a natural beauty to leave down around the house even whilst you are not using them. The eco-sustainable mats will never be consigned to a landfill like rubber or plastic yoga mats. Shop Now Natural Yoga Mats.