Photo: San Thome Basilica, Chennai; Pic Courtesy: Myflightzone
Christianity in India: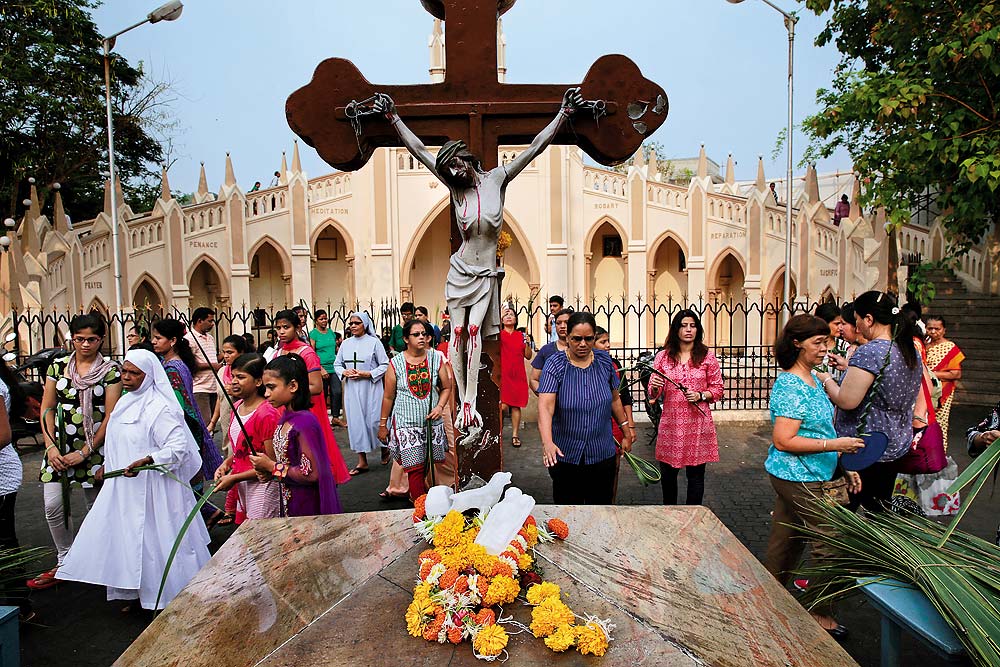 India is home to several religious systems. Today Christianity is regarded as the third largest religious minority in India, composing 2.5% of the population. Christianity has influenced the social, political, and economic elements of Indian society since its arrival. Christianity in India is much ancient than many of the European countries. There are many fascinating stories behind how the religion grew, spread, and evolved into the many different denominations you see spread across India today. The roots of Christianity in India can actually be traced back to the origin of Christianity.
Photo: Christians of Mumbai ; Pic Courtesy: Outlook India
Ancient Beginnings of the Saint Thomas Christians:
There are many schools of thought as to how Christianity spread in India. It is commonly believed that Christianity came to India with St. Thomas, one of the twelve Apostles of Christ (the disciples of Jesus sent out after Christ's Crucifixion to spread word of Jesus Christ and Christianity) who visited India and established Christianity as early as 52 CE during the reign of king Kandaparasar. St. Thomas's journey was a long one – through the Mediterranean Sea via Red Sea and into the Arabian Sea. Some say he came via Afghanistan. He is said to have landed in Kerala in Southern India. There he went around speaking to people about the message of Christ.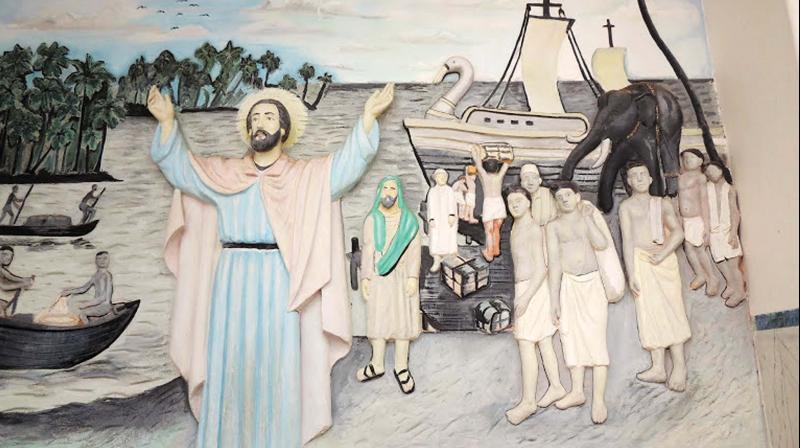 People gathered to listen to St. Thomas and he was very popular there. He preached among the settled Jews and Hindus. A group of people there accepted that the Christ was indeed the "Messiah". St. Thomas established the first Christian Church in India – St. Thomas Syro-Malabar Church at Palayoor near Guruvayoor, Kerala. Later he founded other six churches in Kerala. The Christianity took root in Kerala, developed a culture and a lifestyle, which though distinct, were closely intertwined with the Indian culture. This early group of Christians still exist in India and they are called Thomas Christians (also called Syrian Christians and Nasrani Christians). They took to Christianity somewhere between somewhere between 52 CE and 76 CE. Thomas Christians of Kerala are one among the earliest practicing Christians in the world today. This makes India one of the first countries where Christianity took root.
Photo: St Thomas arrival in India, depicted as a mural at St Thomas pontifical shrine; Pic Courtesy: Deccan Chronicle.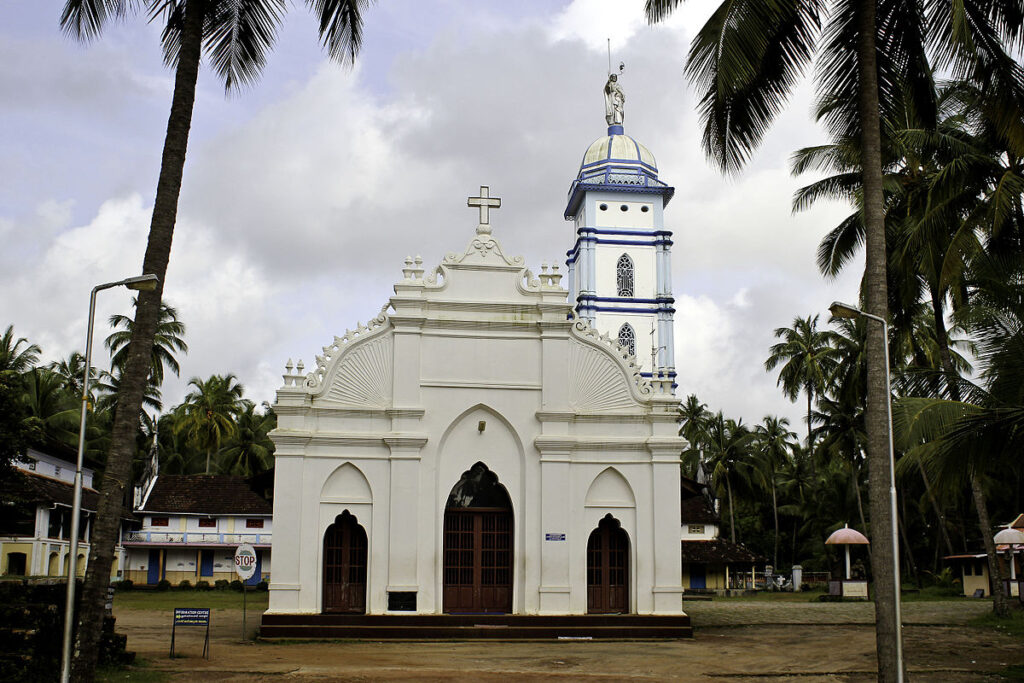 A few years after landing in Kerala it is said that St. Thomas walked across the Peninsular and reached the shore of Mylapore, in Chennai. At Mylapore Thomas is believed to have lived and used to go for meditation to a secluded place called "Little Mount" what is now called the St Thomas' Mount. Every day he would walk down to the beach a few kilometres away to meet people and talk about Christ. Here too his talks were extremely popular. It is said the king of the land used to come and listen to him. But some people here did not appreciate the new religion. St. Thomas was persecuted and killed in a cave there in 72 A.D.
The Church After St. Thomas: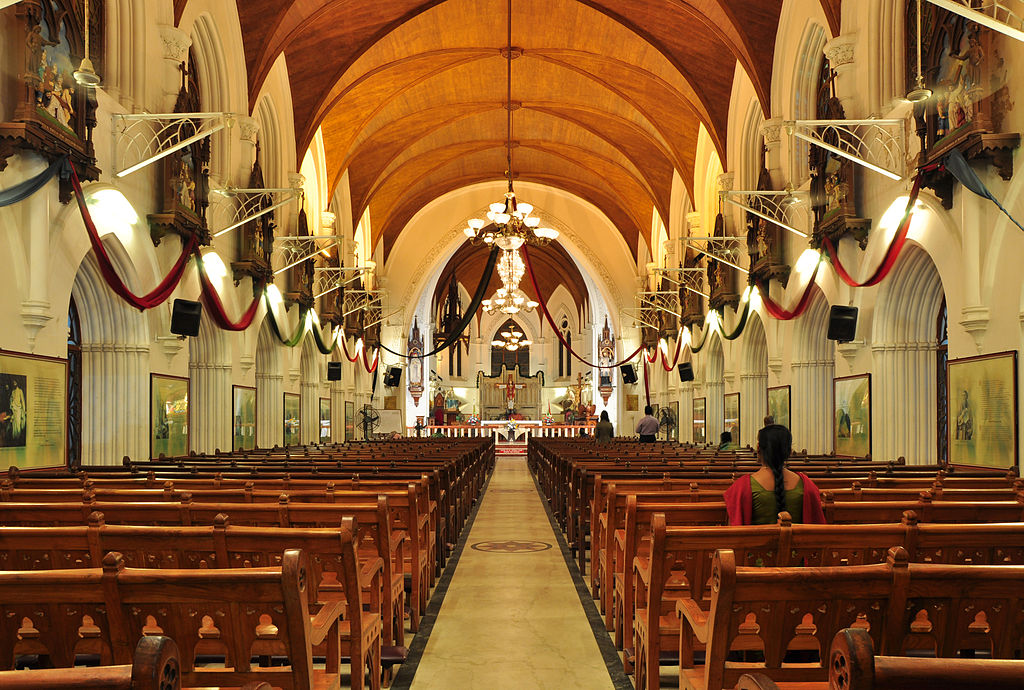 Armenian Christians discovered his grave in the sixth century and a church built on the site. In 1523, Portuguese settlers built a Church over his grave and called it San Thome after the apostle. It became a cathedral in 1606, and was later rebuilt by the British in the 19th century. This is now the nucleus of the present San Thome Basilica.
After the Portuguese discovered the tomb of St Thomas several attempts were made to take his remains to Europe. The remains of St. Thomas were first shifted to Edessa in Iraq and later to the Greek island of Chios. From Chios they were shifted to Ortona in Italy where they remain to this day. But Chennai has the honor of having a basilica built over the tomb of St. Thomas.
Photo: Interior of San Thome Basilica Church; Pic Courtesy: The Culture Trip
This San Thome Basilica church is very significant church as it is one of the only three known churches in the world built over the tomb of an apostle of Jesus, the other two in Vatican City (St. Peters Basilica) and Spain (St. James Church).
Source:
1. When did Christianity come to India? | The story of St. Thomas | St. Thomas Basilica, Chennai, Retrieved from https://www.storytrails.in/videos/when-did-christianity-come-to-india/
2. Using the Heritage of the St. Thomas Christians To Develop an Outreach Strategy, by Kunjunjukutty Yohannan,
Andrews University, Retrieved from https://digitalcommons.andrews.edu/cgi/viewcontent.cgi?article=1704&context=dmin
3. How Did Christianity Come To India?, Retrieved from https://www.pitara.com/science-for-kids/5ws-and-h/how-did-christianity-come-to-india/