Sabai grass is a natural fibre abundantly grown in tribal-dominated Mayurbhanj district of Odisha and in Bankura and Purulia of West Bengal. Sabai rope weaving is a traditional craft in different areas of Bankura, Purulia and West Midnapore in West Bengal as well as in some parts of Odisha.
Because of Flexibility and strength , leaves are utilized for making ropes and other Rope based utility items.
The grass was discovered by the British during their rule in India and used by their military. It got a commercial thrust only in 1992 as a Poverty Alleviation programme funded by the Ford Foundation and now it provides employment to around 50,000 people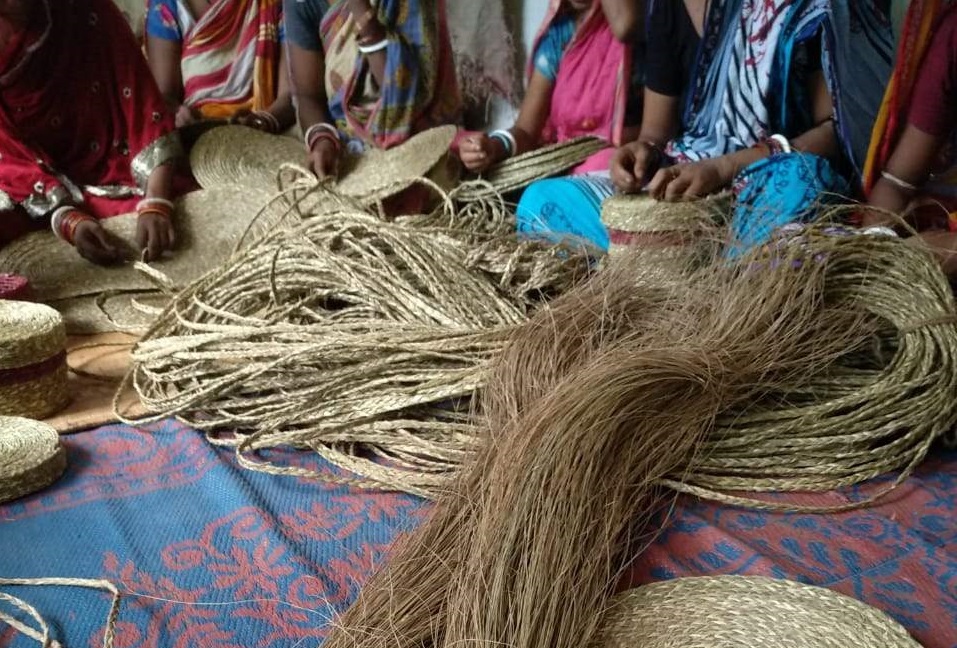 Sabaii is a hardly plant, thrives best in regions with an annual rainfall of 30 to 60 inches. This grass that used to grow wild is now harvested every 3 months, peak season being November to January.

Then it is dried by spreading on the road. The color changes to almost ochre.

The grass strength, color and thickness varies and it is sorted. Only finer grass is used for handicrafts. The bundles of grasses are sold in the mandi's as rope OR grass itself.
Pic Source: FarmerStory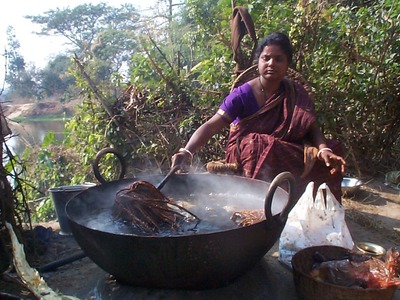 The grass is washed by boiling and then boiled with dyes. The grass needs to be turned many times while boiling.

Then washed again in clear water and dried in the sun. The artisans we work with are trained to using natural dyes as well as lead free chemical dyes.
Pic Source: KadamHaat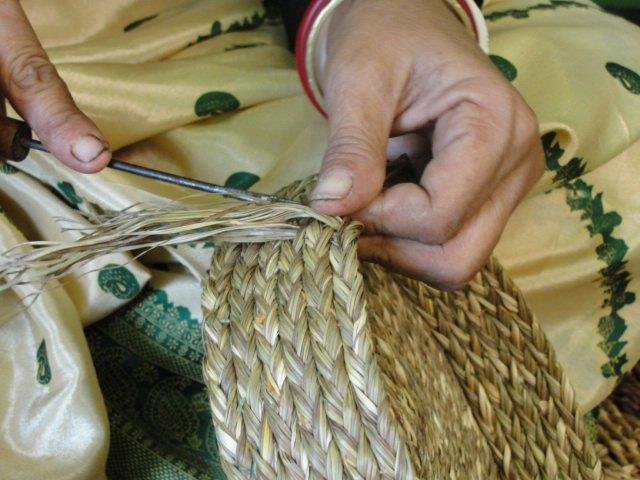 The dyed grass is plaited or converted into ropes by twisting it. The plait is hand stitched line by line using strong cotton threads. The wall of the basket being built by stitching.

Pic Source: KadamHaat
There exists good scope for value addition of Sabai Grass fibre for making handicrafts and other furniture items. The grass has now found its use for more attractive products such as fashion bags, table accessories, floor coverings and furniture, appreciated by the city dwellers.
Sabai Grass products are eco-friendly in nature and hence are superior to synthetic products in quality. As such the diversified products, mainly fancy and decorative items, offer good prospects in the domestic as well as export market.  Shop Now Sabai Grass Products.