Photo Source: Bennett, Coleman & Co. Ltd. 
Monsoons in India always have their own story to narrate. Monsoons are considered the life-force of India! The INDIC culture has been illuminated by the literature, art, music, religion and way of life inspired by the Monsoon tradition. INDIA is the only country in the world which has the mighty barrier of the Himalayas to block the passage of rain-bearing clouds that bring a magical rain in a specific season every year. India is endowed with the largest water-bearing cloud system in the world. Monsoon literally transforms life in India. Lush green landscape, rejuvenated streams leading to rivers and mega falls, rich biodiversity are just enough to Invite Nature in Life!
Rain in India is always associated with food. Monsoon season generally starts off from June with the drastic environmental change from the scorching summer heat to heavy downpours which would have a profound impact on the strength of our body. According to Ayurveda, this season is characterized with doshic imbalances and low immunity. The rains are a great time to detox, with Khichdi and Herbal tea.
The Indian monsoon food culture is rich and varied. Every state and every city offers a different taste of Indian monsoon food.  Celebrate the season to indulge in some piping hot and steaming food like Bhajiyas, Khichdi, Momos, spicy Biryani, coffee or herbal teas. Here are some must have culinary tools to enhance monsoon recipes for your help.
Rasam in Soapstone Cooking Pot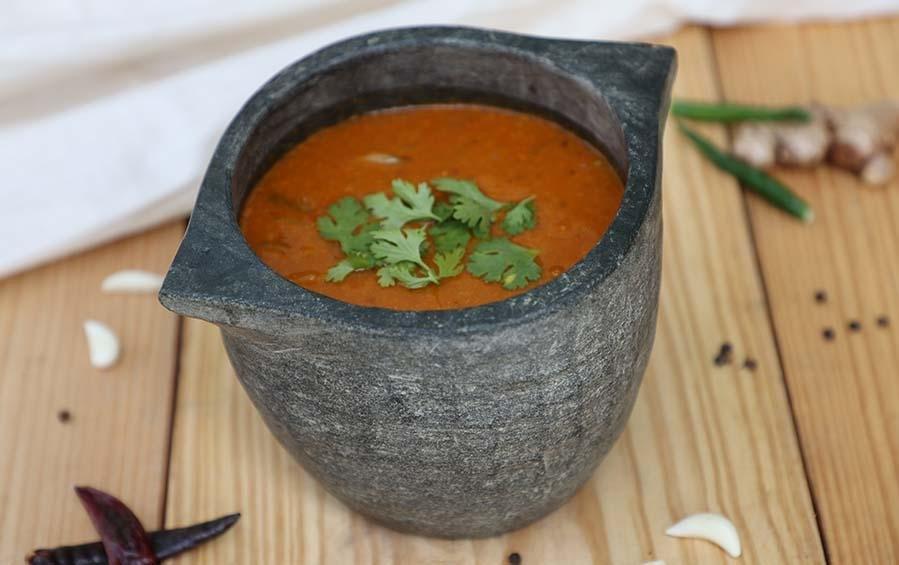 Piping hot Rasams that are not only nourishing but help to stave off a cold during the rainy monsoon weather with their therapeutic ingredients. The humble rasam is a sour and spicy, centuries-old superfood, for a variety of reasons. Considered a comfort food of South India, this soup-like, tangy flavoured broth, not only satiates the taste buds, but protects the body from various health issues. This Soapstone Traditional cooking pot made out of naturally available soapstone designed to cook your curries. From vegetable curries to nonveg curries, experience the authentic taste of tradition and flavors. The Soapstone Cookware Pot is very well known to cook rasam, sambar and few other vegetables stews were always cooked in this cookware because once it's cooked, the food can stay fresh for 2 days. Any dish that needs to be cooked slowly for long time tastes at its best with this cookware. Since the food gets cooked at a constant temperature.

Hot Appams in Soapstone Paddu Tawa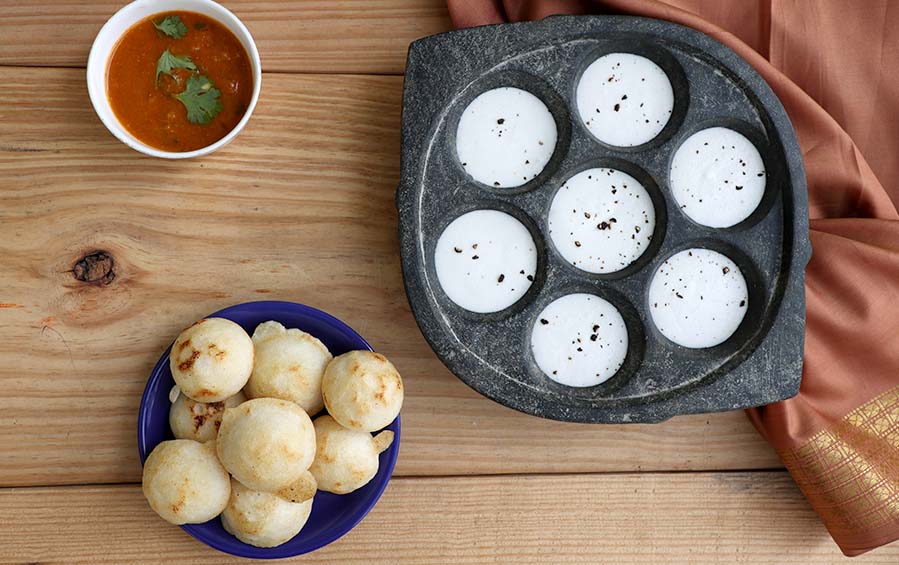 Hot Rasam with tasty Appams is the perfect combination as you sit by and watch the torrential rains work its magical wonders. Appam – rice pancake is a simple dish that can be whipped up in minutes. It is perfect for breakfast, snack box or as a snack in the evening along with some hot coffee or chai.
Our Soapstone Traditional Paddu Tawa with seven holes made out of naturally available soapstone – perfect for making crispy, soft and fluffy kuzhipaniyaram, appam, unniyappam, paddu and more.
The soapstone cookware consumes less oil and offers both a unique taste and added nutrition to every dish cooked in it.
South Indian Coffee in Drip Style Coffee Maker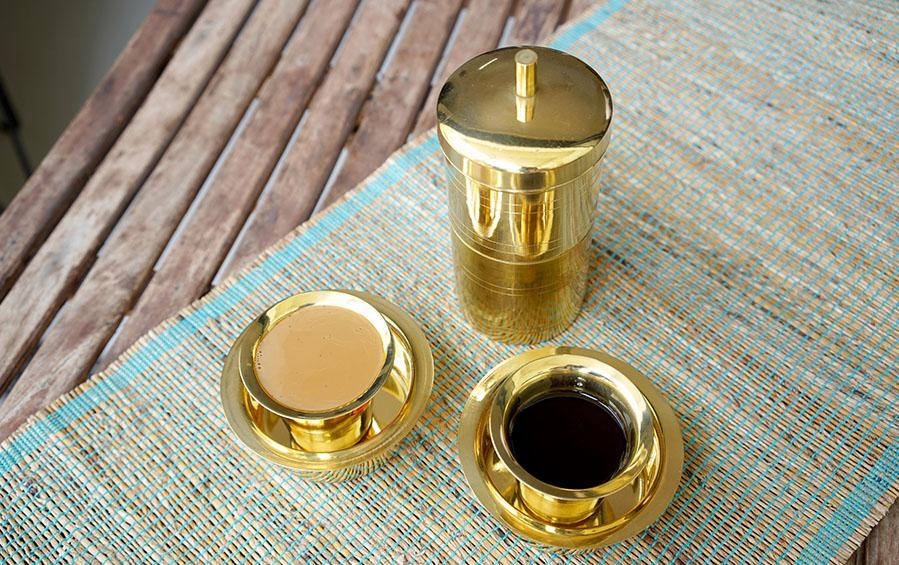 The delicious way to stay warm this monsoon is having a cup of Kappi -South Indian Drip Style coffee. It's hard to get out of bed during the monsoon so to make coffee try our pure Brass Coffee Filter. This comes with traditional Brass Davara / Dabara or Brass Tumbler set – traditional serving of Tea and coffee items. Brass Coffee Davara Set is the traditional & Healthy way to enjoy your fresh filter coffee. This coffee making + serving set is great for gifting during weddings, anniversaries, house warming, new venture & award ceremonies. These Brass Coffee filters are truly timeless and with proper care, they can last through generations. So, if you love your morning coffee, give it a traditional twist by making it in one of our Brass Coffee Filters, made manually by our rural artisans.
Khichdi & Bhajiyas in Soapstone Kadai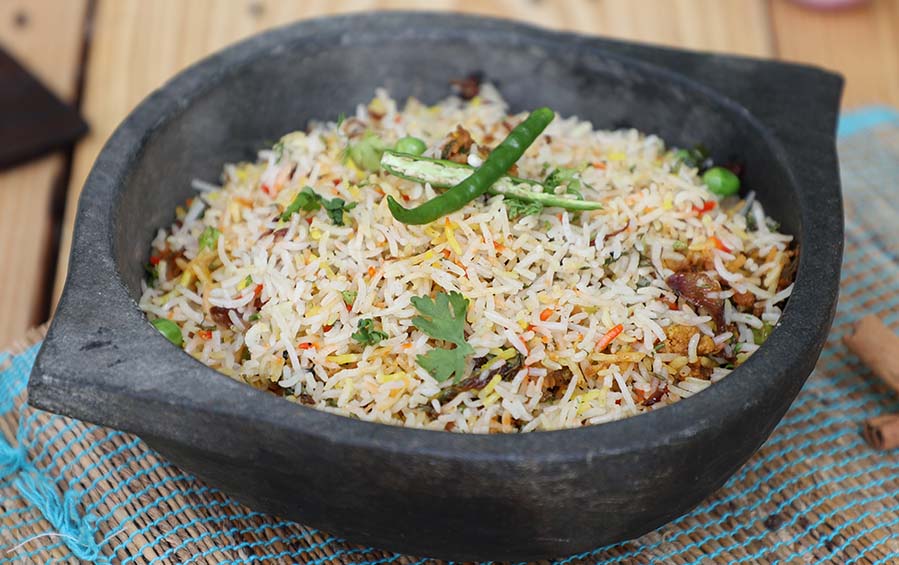 During the monsoon, stomach infection is rampant due to two reasons: it's the ideal season for bacteria and fungus to multiply which otherwise stay dormant; and after a hot summer, immunity is down. This combination makes us vulnerable to various infections. The solution is to have food that's antifungal and antibacterial by nature. Eat simple Khichdi to soothe your tummy this rainy season. Khichdi is ideal because it does not irritate the intestine (inflamed due to infection), is easy to digest, contains water (there is water loss during a stomach upset), contains moong dal which has amino-acids, and ghee which settles the stomach. Try our Soapstone traditional cooking Kalchatti Kadai made out of naturally available soapstone designed to cook flavorful, mushy, one-pot dish -khichdi. Once khichdi is cooked in this kadai, the food can stay fresh for 2 days. Experience the authentic taste of khichdi accompanied by some tasty bhajiyas / pakoda and enjoy this rainy season to the fullest. This soapstone kadai is also perfect to fry crispy pakodas — of onions, potatoes and cauliflowers.
Momos In Natural Bamboo Steamer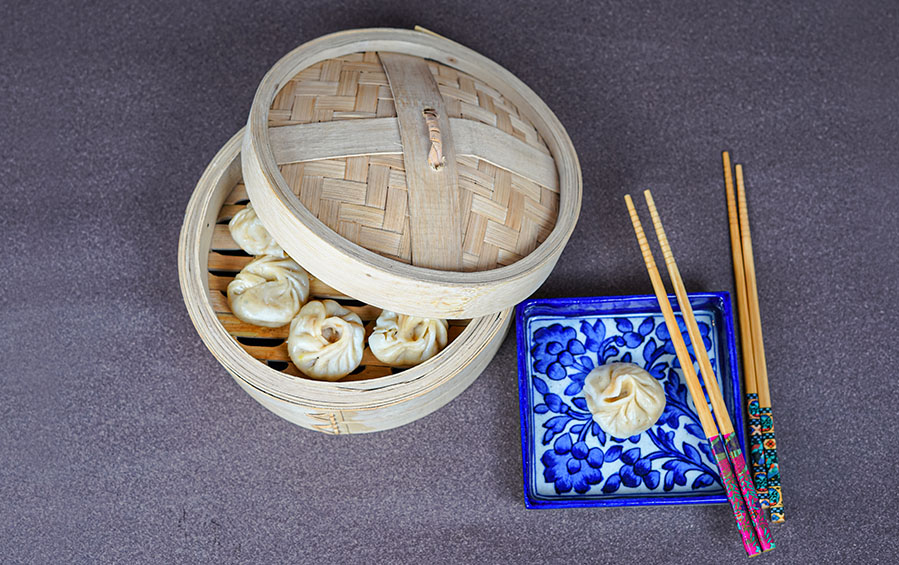 If you want to enjoy delicious food in these rains but yet want to stick to healthy options, then here's some. Do give it a try for cooking steamed Momos at home in monsoon season. Being hot and served with spicy garlic chutney, Momos are also a great snack for any rainy day. The ancient North-Eastern Indians used natural handmade steamers to cook food. Due to their health aspect (cooking without any oil), food steamers are used extensively in health oriented diets. Momo steamers have been used for centuries. Food steamers release less heat to the kitchen environment, therefore helping keep the kitchen cool during hot summers. Our bamboo steamer basket set are round steamers made from bamboo used in the North-Eastern Indian cuisine. They can be stacked on top of each other so that the steam can cook many different servings simultaneously. Our bamboo steamer is handmade by the North-Eastern artisans. Easy to clean and maintain. Dimensions: 8 inches
Honey with Honey Dippers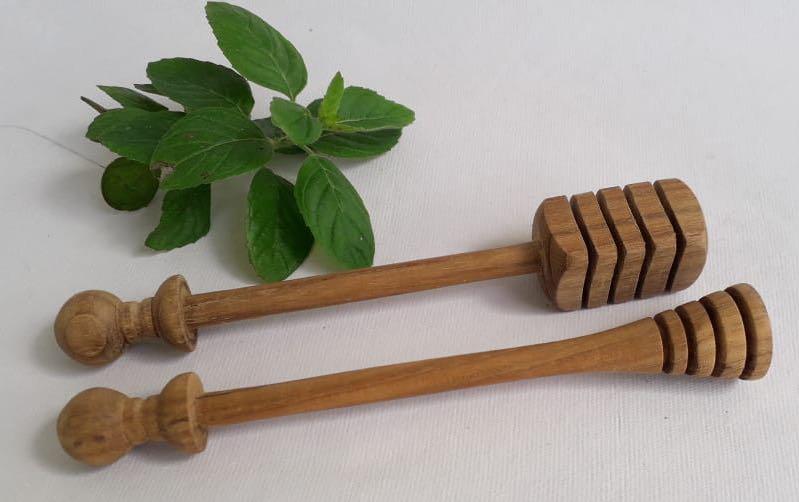 A cold and sore throat are common problems during the monsoon season. Honey is proven to have a soothing affect on a sore throat.
Stomach infection and food poisoning are also quite common during the monsoon. Honey is rich in probiotic or what is known as the friendly bacteria, so it helps fight the mycotoxins and food-borne pathogens.
Serve your honey with this practical wooden SET OF 2 dippers. The set is the most convenient utensil for drizzling a bit of honey into your cup of tea or onto your toast. The dippers are with deep ridges which means the dippers hold the honey slightly longer which gives you more control and so is great for cake drizzling. Simple designs of dippers make the set so much easier to clean.
Biryani In Natural Bamboo Maker
Hot biryani and cold raita on a rainy day is a pleasure that is incomparable. Preparing a perfect Biryani is an easy task. You just need to use a well-balanced Biryani masala and a perfect Biryani maker your Biryani will turn out be a hit! A perfect dish for a cold rainy day! Handcrafted Conventional Kerala Style Bamboo Biryani Maker with coir covering is one of a traditionally used cookware made of bamboo and coconut shell. It is used to cook Dum Biryani with the use of steam. It can be kept above the boiler (steamer, cooker) so that the food (Biryani…etc) gets cooked from the hot steam. This steamer should be used for a healthy & chemical free diet. It can be kept above the boiler (steamer, Pressure cooker) so that the food gets cooked from the hot steam. Steaming enables food materials to keep their natural flavour, colour, shape, and nutritious value better than boiling and simmering. You can place this bamboo steamer on the nozzle of a Pressure Cooker with enough water. Use the bamboo stick to push the cooked puttu/biryani from the steamer. Not to forget, the heavenly aroma of the biryani cooked in this bamboo steamer is worth the effort!
Namkeen Shakarpare With Shakarpare Cutter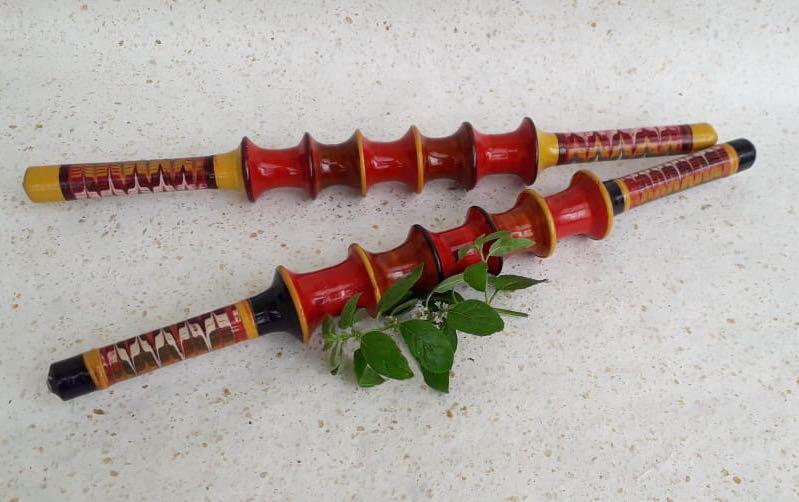 Shakarpara – the best monsoon snack to be had along with your hot cup of chai or coffee during a rainy evening. Try making the savory flaky pastry diamonds with our handcrafted wooden shakarpara roller / cutter, made of neem wood with lacquered colours. This roller is made by Kutch Lacquer artisans. A truly unique and beautiful handcrafted Kitchen accessory that is extremely durable and hardy. The set is of rainbow colour. Of intricacy on wood. Use them to mix, Or use them to show; Use them as rare pieces. This form of lacquered patterning is found only in Kachchh.
Chai in A Compact Tea Maker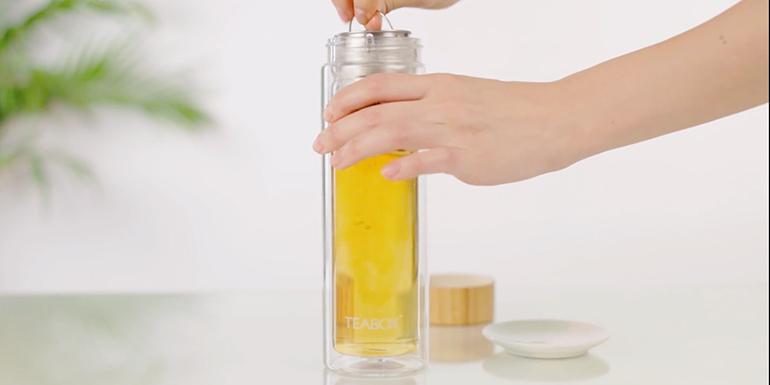 Monsoons are the time to indulge in a piping hot cup of tea. Make your favorite herbal tea with this tea maker while catching some rains. The double-paned borosilicate glass body keeps your tea hot (or cold) and is comfortable to hold. The fine-mesh, removable stainless steel infuser goes on the top and is perfect for steeping loose-leaf tea. All you have to do is spoon your favorite tea into the infuser, fill the tea maker with hot water all the way to the top, tighten the lid and that's it. Your tea maker is ready for use on the go. It is a must have for a perfect tea.
Try these yummy monsoon treats at home and let us know your experience in the comments section below. We'd love you to share your ideas with us and tell us how you are enjoying the monsoon season.