Photo Credit: © Sagittarius Pro
India will celebrate its 75th Independence Day on August 15 next year. The republic of India had a very tumultuous beginning. Indian innovation and contribution in science, technology, mathematics, arts, literature, entertainment has dramatically shaped the world we live in today. Let's go back in history and celebrate the achievements of some of these people from all walks of life such as the freedom fighters, leaders, scientists, litterateurs, writers, painters, musicians, social reformers and entrepreneurs of India. Their contributions were instrumental in the evolution of this country and resulted in the finished product called India.
Freedom Movements
India gained its independence on August 15, 1947 after being under British Raj. Several freedom fighters fought to free the country from British rule. While celebrating the big day let's remember millions of our freedom fighters who sacrificed their lives for our independence. Here are some of the great freedom fighters of India whose courage and patriotism continues to inspire us to work for a prosperous and even stronger India.
| | |
| --- | --- |
| Name | A Brief Bio |
| Mahatma Gandhi | Father of the Nation, was the preeminent leader of the Indian independence movement in British-ruled India. Employing non-violent civil disobedience, Gandhi led India to independence and inspired movements for civil rights and freedom across the world. |
| Subhas Chandra Bose | Founded the Indian Legion and revamped the Indian National Army. Bose is known for his role in India's Independence movement. He was a participant of non-cooperation movement and a leader of the Indian National Congress. He worked with Jawaharlal Nehru for independence. |
| Vallabhbhai Patel | Indian barrister and statesman, one of the leaders of the Indian National Congress during the struggle for Indian independence. |
| Lokmanya Tilak | Scholar, mathematician, philosopher, and nationalist who helped lay the foundation for India's independence by building his own defiance of British rule into a national movement. He founded (1914) and served as president of the Indian Home Rule League. |
| Bhagat Singh | This brave fighter was executed at the young age of 23 by the British for two of his dramatic violence acts. |
| Veer Savarkar | A leading figure in the Hindu Mahasabha.. Developed the Hindu nationalist political ideology of Hindutva. |
| Gopalkrishna Gokhale | Led the moderate nationalists in the early years of the Indian independence movement. |
| Chandrashekhar Azad | A revolutionary freedom fighter was engaged in a fierce gun fight with the British in 1931. After single-handedly fighting the police for a while with just a pistol and a few cartridges, Azad shot himself in the head, fulfilling his vow of dying as a free man. |
| Bankim Chandra Chattopadhyay | The composer of Vande Mataram, originally in Sanskrit, personifying India as a mother goddess and inspiring activists during the Indian Independence Movement. |
| Rabindranath Tagore | The first Asian Nobel Laureate in Literature in 1913, the soul of India, an eminent in various fields. |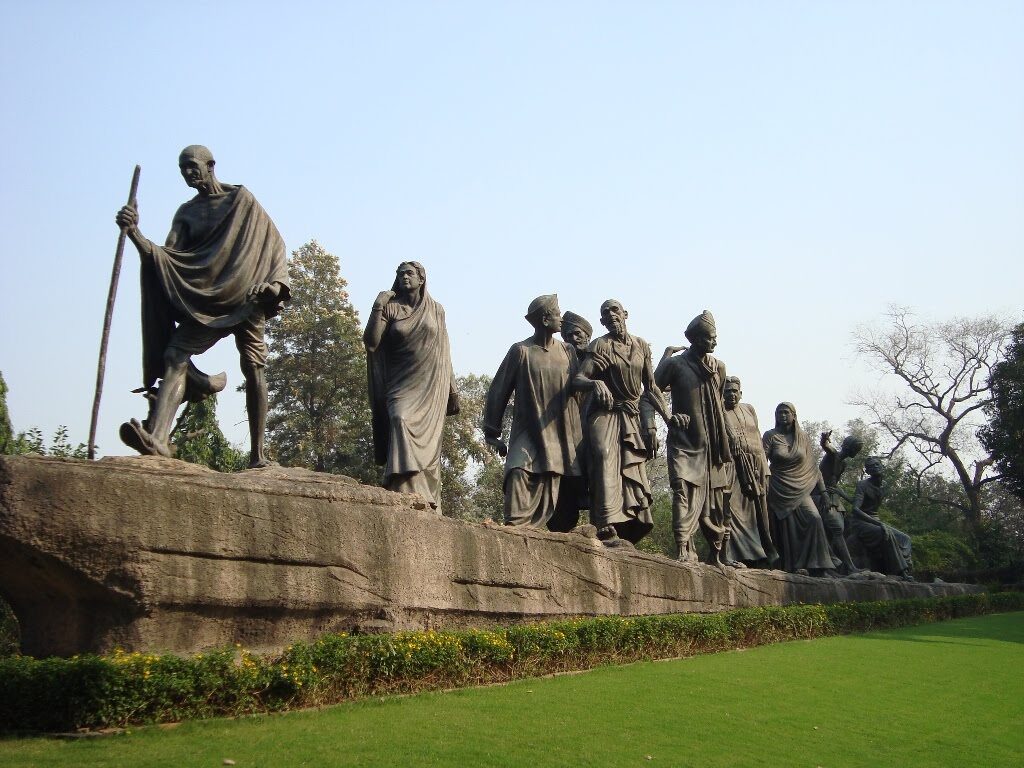 Politics
Harmony was achieved by some rulers and great politician leaders in the Indian History and it effects a continuity with their humane policies towards the people of the modern Indian nation. Here is a list of some great leaderswho pin pointed some of the traits of Indian politics.
| | |
| --- | --- |
| Name | A Brief Bio |
| Chanakya | The founder of political ideology in India. We can call him the first systematizer of politics in India, because he made his mark as an author of a book named the rules and regulations of politics, which was the biggest cause of his fame. He is considered the first political thinker. He is the first man who dreamed a united India. |
| Emperor Ashoka | Credited with remaking the Mauyran Dynasty from a war machine into a society of tolerance and nonviolence, based on Buddhism. Ashoka is remembered as a great tolerant leader and ruler. It is thus with good reason that the Indian Republic chose Ashoka's Lion Capital at Sarnath as its state emblem to reflect the same harmony achieved by this great ruler in the remotest period of Indian History and effect a continuity with his humane policies towards the people of the modern Indian nation. |
| Dara Shikoh | The philosopher-prince of Mughal India Dara Shikoh always tried to unite the society. |
| Shivaji Maharaj | Created an independent and sovereign state in Maharashtra which was based on justice, welfare of the people and tolerance to all faiths. In course of time, his movement assumed, the form of an all-India struggle; a struggle which was to change the political map of India. |
| Jawarlal Nehru | The first Prime Minister of India is considered as one of the greatest statesmen of India. Ashoka's peaceful relations with neighbors were most certainly an inspiration for India's first Prime Minister Jawaharlal Nehru, also the country's first External Affairs Minister, in formulating peaceful ties based on negotiation with our neighboring countries. |
| Dr. Bimrao Ambedkar | The great Indian scholar and statesman, leader and Liberator and the chief architect of the Constitution of India |
| Lal Bahadur Shastri | The second Prime Minister of India promoted the White Revolution – a national campaign to increase the production and supply of milk |
| Sarojini Naidu | A proponent of civil rights, women's emancipation, and anti-imperialistic ideas, she was the first Indian woman to be president of the Indian National Congress and to be appointed an Indian state governor. |
| Indira Gandhi | A central figure of the Indian National Congress. She was the first and, to date, only female prime minister of India. |
| Shyamaprasad Mukherjee | Independent India's first Minister of Industry and Supply in Prime Minister Jawaharlal Nehru's cabinet. An example of great leadership and political milestone. |
| Atal Bihari Vajpayee | Served three terms as the prime minister of India. Led National Democratic Alliance (NDA) was in power at the Centre during the time the Kargil War was fought. Praised for articulating India's stand at the world stage. |
Military
India will always be proud of it's legendary army heroes
Sam Manekshaw– was the Chief of the Army Staff of the Indian Army during the Indo-Pakistani War of 1971, and the first Indian Army officer to be promoted to the rank of field marshal.
General Cariappa – During the Indo-Pakistani War in 1947, KM Carriappa led the nation on the Western Front. He is one of the two recipients of the title of Field Marshal of India
Mathematics & Science

Science and Mathematics were highly developed during the ancient period in India. Indian vedas and ancient scriptures also had information on metallurgy, algebra, astronomy, maths, architecture and astrology way before the western world knew about them.
| | |
| --- | --- |
| Name | A Brief Bio |
| Aryabhatta | The mathematical concept of zero was born in India over 1,500 years ago and Aryabhatta showed that zero was not a numeral only but also a symbol and a concept. The greatest contribution of Indians to world is zero. |
| CV Raman | C V Raman, one of the greatest scientists of India, found out by experiment that the sea looks blue because of the 'Scattering Effect of the Sunlight'.This phenomenon later came to be known as Raman scattering which is the result of the Raman effect. |
| Dr. Jagadish Chandra Bose | Dr. Jagadish Chandra Bose was a multi-talented Indian scientist who also invented wireless communication. |
| Bhaskaracharya | Bhaskaracharya was an Indian mathematician and astronomer who extended Brahmagupta's work on number systems. Visveshvaraya, Srinivasa Ramanujan, Dr. Bidhan Chandra Roy, Haragobind Khorana, |
| Dr. Vikram Sarabhai | Dr. Vikram Sarabhai is widely regarded as the father of the Indian space programme. In fact he was a rare combination of a scientist, an innovator, industrialist and a visionary. The establishment of the Indian Space Research Organization (ISRO) was one of his greatest achievements. He was Chairman of the Atomic Energy Commission. |
| Dr. Homi Bhabha | Dr. Homi Bhabha, one of the key architects of India's nuclear-science program, founded and directed two of the institutions that would bring India into the nuclear age: the Tata Institute of Fundamental Research (TIFR) and the Atomic Energy Establishment, Trombay, later renamed the Bhabha Atomic Research Centre (BARC) in his honor. |
| Dr A P J Abdul Kalam | Dr A P J Abdul Kalam is known as Missile Man of India because of his major contribution in the field of technology and space in India. Dr. Kalam had put in over 10-year-long hard work as the project director for the development of the indigenous Satellite Launch Vehicle at ISRO that ultimately resulted in one of the greatest scientific developments of indigenous Satellite Launch Vehicle (SLV-3). |
| Visveshvaraya | As an engineer, he built dams, bridges and institutions, and the foundation for a modern India. |
| Hargovind Khorana | Made important contributions to this field by building different RNA chains with the help of enzymes. |
| Srinivasa Ramanujan | Made substantial contributions to the analytical theory of numbers and worked on elliptic functions, continued fractions, and infinite series. |
Yoga
More than 5,000 years ago, Yoga started its journey as an ancient Indian science of exercise and healing, passed along from teacher to student through oral tradition and physical practice. The origins of Yoga have been speculated to date back to pre-vedic Indian traditions; possibly in the Indus valley civilization around 3000 BCE. It is mentioned in the Rigveda.
Yoga is also known as one of the oldest holistic health care systems, not just because of its fundamental healing approach, but also because of its many benefits for physical, mental and spiritual wellbeing.
| | |
| --- | --- |
| Name | A Brief Bio |
| Maharshi Patanjali | The physical aspects of the yogic practice were first detailed by the great Sage Maharshi Patanjali (2nd century BCE or 5th century CE) – the Father of Modern Yoga & Ashtanga Yoga. His Yoga Sutras(Aphorisms on Yoga) is one of the most important texts in the Indian tradition and the foundation of classical Yoga. Patanjali Yoga was described as very effective way to achieve good health at the international level many years ago even before it attained its current popularity. |
| B.K.S. Iyengar | B.K.S. Iyengar is known for his mastery over the topic of Yoga. He was the founder of the style of yoga as exercise known as "Iyengar Yoga" and was considered one of the foremost yoga teachers in the world. |
Medicine
Contribution of India in modern lifesaving medical technologies played a huge part in framing the narrative of the history of science across the world.
| | |
| --- | --- |
| Name | A Brief Bio |
| Charaka | Charaka's contributions to the fields of physiology, etiology and embryology have been recognised. Charaka is generally considered as the first physician to present the concept of digestion, metabolism and immunity. |
| Anandi Gopal Joshi | Anandi Gopal Joshi- was one of the first Indian female doctor of western medicine. |
Business
Though entrepreneurship in India isn't new, Indian business has come a long way.
Name
A Brief Bio
Jamshetji Tata
Jamsetji Tata the "Father of Indian Industry" was a man of sharp business acumen and charisma. He built one of the largest industrial houses of India. The company which was founded as a trading concern in 1868 presently has over 100 operating companies including Tata Steel, Tata Motors, Tata Consultancy Services (TCS), Tata Power, and Tata Chemicals.
JRD Tata
JRD Tata Known for his groundbreaking achievement in the Indian aviation industry.
Dhirubhai Ambani
The founder of Reliance Industries started with Rs 50,000 and two assistants. In just three decades, the combined fortune of the family was over 60 billion USD.
Ranked by Forbes as the world's 138th-richest person, with an estimated net worth of $2.9 billion in 2002.
Spirituality & Philosophy
Preserving the lives of great philosophers, thinkers and intellectuals is the sign of any great nation, who has changed the mind set of the people through their knowledge and thinking and guided them to the right path. Buddha, Mahavira Jain Tirthankar, Vyasa, Tulsidas, Guru Nanak, Adi Shankaracharya, Sri Ramakrishna Paramahamsa, Swami Vivekananda (a key figure in the introduction of the Indian philosophies of Vedanta and Yoga to the Western world) to name a few of great sages and philosophers.
Environment
According to Indian philosophy, the entire universe is created out of Panchamahabhuta – the conglomeration of the sub-atomic particles which influence the five gross elements – earth, water, fire, air and space. These elements have different characteristics and these also account for different faculties of human experience. In Ayurveda and Indian philosophy, the human body is considered to be made of these five elements. So our lifestyle and food habit should be in sync with the rhythm of Nature to be truly healthy. In Rigveda, it has been mentioned that Panchamahabhuta – the cosmic elements play an important role in preserving and sustaining the environment.
Here is a list of people who are most remembered in history for igniting a movement for protecting the environment.
| | |
| --- | --- |
| Name | A Brief Bio |
| Sunderlal Bahuguna | Sunderlal Bahuguna The leader of the Chipko movement, Bahuguna was a true environmentalist and the follower of Gandhian philosophy. |
| Dr. Salim Ali | Dr. Salim Ali – an Indian ornithologist and naturalist. Sometimes referred to as the "Birdman of India", Salim Ali was the first Indian to conduct systematic bird surveys across India and wrote several bird books that popularized ornithology in India. |
Literature & Arts- Sports, Music, Dance & Film
The Indian literary tradition is one of the oldest in the world. The first ancient Indian literature was Sanskrit literature which comprised Rig Veda, Mahabharata, and Kannada. Here is a list of some great authors and legendary artists of various fields like paintings, sports, music, dance and cinema etc.
Kalidasa, a Classical Sanskrit author, is often considered ancient India's greatest playwright and dramatist
R K Narayan, known for his work set in the fictional South Indian town of Malgudi.
Raja Ravi Varma – one of the greatest Indian painters
P. C. Sorcar – an internationally acclaimed magician
Sports personalities like Mansoor Ali Khan Pataudi (cricketer), Milkha Singh (Indian track and field sprinter), Major Dhyan Chand (hockey player), Vijay Merchant (cricketer), Ranjit Singhji (cricketer)
Great Hindusthani classical musicians like – Ali Akbar Khan (sarod player), Ustad Bismillah Khan (shehnai player), M. S. Subbulakshmi (Indian Carnatic singer- the first musician ever to be awarded the Bharat Ratna), Pandit Ravi Shankar (sitar virtuoso and a composer),
Dancers like Uday Shankar – an internationally acclaimed dancer and choreographer, best known for creating a fusion style of dance,
Film makers like Satyajit Ray – best known filmmaker internationally & Raj Kapoor – a legend who changed the face of Indian cinema
Education
The ancient education system of India focused on the holistic development of the students. Indigenous education was imparted at home, in temples, pathshalas, tols, chatuspadis and gurukuls. In ancient times, Takshashila was a noted centre of learning, including religious teachings of Buddhism, for several centuries. It continued to attract students from around the world until its destruction in the 5th century CE. Similarly The ancient Nalanda was a centre of learning from the 5th century CE to 12th century CE. Located in present day Rajgir, Bihar. The Indian education system continued in the form of ashrams, in temples and as indigenous schools. Our present day education system has a lot to learn from the ancient education system of India. Some legendary educationists of Indian history are
Dr. Sarvepalli Radhakhrishnan, the first Vice President of India and the second President of India, one of the most recognized and influential Indian thinkers in academic circles in the 20th century.
Savitribai Phule– a social reformer in providing education for girls and for ostracized portions of society
Maulana Azad– the First Minister of Education in the Indian government.
Pt. Madan Mohan Malviya – The three times president of Indian National Congress and the founder of Akhil Bharatiya Hindu Mahasabha.
Be proud of being an Indian. Check out our India The Republic Collection HERE. The aim of this collection is to create patriotic feeling among the youth and masses across the nation. Soon we will introduce our newly designed product – 75 Indic Inspirations Rolodex I Words of Wisdom from 75 stalwarts in Indian History – a rolodex made with profound messages of leaders from various walks of life – from ancient philosophers, scientists, politics, sports, freedom movement, education and other fields who blessed our land and made us a land of seekers, that helped us remain vibrant inspite of all odds!